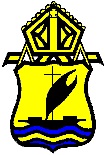 Anglican Church
of Papua New Guinea
Diocese of Port Moresby

St Marys Gerehu
---
---
ST MARY'S GEREHU:

Rector: Fr Lollington Wiam

Sunday Mass time: 9am

Gerehu is a large suburb on the northern edge of the city with many problems from lawlessness and criminal gangs. The parish began after a group of people came together and asked the Bishop to provide them with a priest for regular services. St Mary's was therefore established in 1980 by the late Bishop Sir David Hand who settled in Gerehu after his retirement. A large block of land was granted to the Church and parishioners worshipped in a bush materials building while fund-raising for a permanent structure. After a rectory was completed, money was raised sufficient for a steel frame to be erected, after which the people themselves worked on the masonry walls as finance permitted. The church was finally completed with the help of a USPG loan (paid off by Little St Mary's Cambridge) and dedicated in 1987 by Bishop Isaac Gadebo. The tower over the entrance contains a bell dating from 1667 from a redundant church in Norfolk, England. The wide sanctuary lit by two tall slit windows is dominated by a large wooden crucifix of Christ the King.


St Mary's, Gerehu

The suburb of Gerehu was extended in stages, and the parish organises itself in these zones for the purposes of fund-raising, house-groups and other activities. There is a lively youth band and Sunday School. The parish has plans to build a community centre on the compound to provide ministry for young people and from which training programmes can be run for the people of the area. This will still leave space for sports and other activities: in 2010 this was the venue for a popular inter-parish volley ball and rugby touch competition in the weeks leading up to Pentecost.
[ Bishop | Organisation | Publications | Stories | Miscellaneous | PNG | News | Home ]
---
Created 5 Jun, 2000
Updated 15 May, 2014