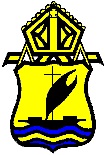 Anglican Church
of Papua New Guinea
Diocese of Port Moresby

Holy Family, Hohola
---
---
Holy Family - Hohola



Rector: Fr John Dubabagi

Sunday Mass time: 9am

Originally a daughter church of St Francis' Koki, Holy Family was built under the direction of the SSF brothers and was dedicated in 1965. Two years later the first Mothers' Union branch in Port Moresby Diocese was started here. The church was looked after by priests-in-charge until 1975 when Fr Caedmon Koieba became the first Rector. During Bishop Michael Hough's time a serious falling-out occurred between Fr Caedmon and the Anglican Church of PNG which caused many problems for this parish. Reconciliation, however, has recently occurred and the parish is flourishing once more.


Interior of Holy Family, Hohola

The Hohola compound contains the church, priest's house and ancillary buildings for parish use. The church which was much enlarged in 1990 is a simple iron frame and roofed building with masonry block walls and louvre windows, white painted walls and white tiled floor. On the wall behind the altar is a curtain-flanked grey marble wall panel on which a wooden crucifix is mounted. Outside is a well-used meeting area under a large mango tree partially screening the tall apartments close by.
---
Created 22 Jun, 2011
Updated 11 Mar, 2012